Training Your Sight Vision at Halton Vision Therapy Centre
When it comes to your vision, you might not always think about how the relationship between your eyes and brain can affect your sight—but it does. Vision is the compilation of at least 21 different visual skills (including sight) and how that is interpreted in the brain.
We rely on our visual skills every day to write, navigate, focus, read, and more, but if there is an issue between your eyes and brain, it can affect your quality of life. Vision therapy is a custom-designed program we can recommend to help address these issues. Vision therapy can also help support your visual skills and enhance the relationship between your eyes and brain.
These programs are led by Dr. Fink and her team of passionate vision therapists and are tailored to your specific needs. Whether you'd like to improve your vision at work, in the classroom, or on the field, we're here to help.
Start your vision therapy program today when you book an appointment.
Book Appointment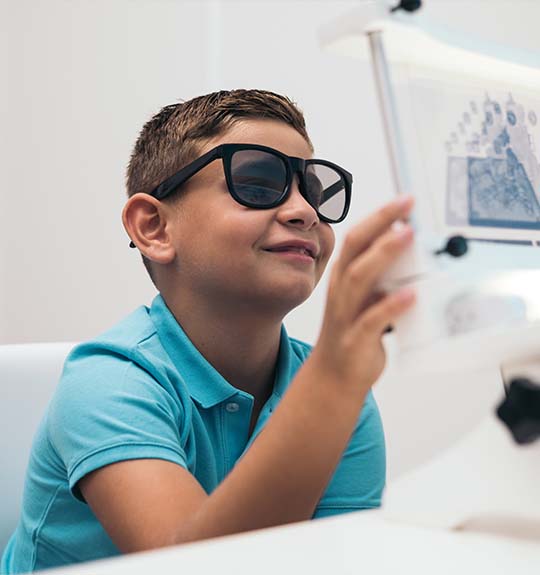 What Is Vision Therapy?
Vision therapy, sometimes known as developmental optometry for children or neuro-optometric optometry for adults, is a custom treatment program that trains specific visual skills in both children and adults.
After determining what is affecting your vision, we'll provide a unique treatment plan typically consisting of 1 30-minute appointment a week and about 10 minutes of at-home exercises a day.
Your Vision Therapy Leaders
We provide all of our vision therapy programs at our Halton Vision Therapy Centre, just a couple doors down from our Dr. Fink Eye Care & Optical Boutique practice.
Led by Dr. Patricia Fink, Dr. Ryan Quinn, and the rest of our vision therapy team, these programs are carefully crafted to fit the unique needs of the patient and are supported by research conducted by Dr. Fink, Vision Therapy Canada, and numerous vision therapy researchers.
Dr. Fink is known internationally for her work in vision therapy and has given numerous lectures on how vision therapy can help children and adults use and enjoy their sight
Book Appointment
What Can Vision Therapy Address?
Vision therapy is a fantastic way to support visual skills in both children and adults.
Using a variety of exercises that include prism lenses, balance boards, and computerized tests, vision therapy can help support skills related to:
Eye tracking
Eye teaming
Focusing
Hand-eye coordination
Visual processing
Vision therapy programs can vary in length depending on the patient's particular needs. Some of the more serious concerns vision therapy can help address include:
Amblyopia & Strabismus
Amblyopia (lazy eye) and strabismus (crossed eyes) are 2 common issues that can develop while children are young, but they could lead to permanent vision problems if left untreated.
Vision therapy exercises help by training the eyes to work together and provide a clear, unified image.
Learning-Related Concerns
ADD, ADHD, dyslexia, reading difficulties—vision therapy can provide support for these concerns and help your child succeed at school and sports.
Traumatic Brain Injuries
Traumatic brain injuries (TBIs) can happen for numerous reasons, and they can have a significant effect on the visual skills you depend on daily.
With the help of a personalized neuro-optometric rehabilitation program, we can help nourish the relationship between your eyes and brain and support your visual skills.
Take the Vision Therapy Assessment
Take our vision therapy assessment and find out if a customized program can help unlock your vision's potential today.
Where to Find Us
Find us next to Shoppers Drug Mart on Appleby Line in north Burlington.
Our Address
2080 Appleby Line

Burlington

,

Ontario

L7L 6M6
Contact Information
*We are open Monday – Saturday for eye examination appointments.
Hours of Operation
Monday

:

9:00 AM

–

5:00 PM

Tuesday

:

10:00 AM

–

8:00 PM

Wednesday

:

10:00 AM

–

8:00 PM

Thursday

:

9:00 AM

–

5:00 PM

Friday

:

9:00 AM

–

5:00 PM

Saturday

:

9:00 AM

–

1:00 PM

Sunday

:

Closed
Book Appointment
Our Brands
Crisp, clear vision starts with a great pair of eyeglasses.
Browse our selection of handpicked brands ranging from the most popular in the world to the unique and independent. Our optical team will be happy to help pair you with glasses perfectly suited to your look thanks to our staggering selection of colours, materials, and styles.
Visit us today and see the world differently.