Screen-Based Strain
What does your technology do for you? Today, we can order dinner, buy concert tickets, chat with friends, play games, and even work, all from any device with a screen. Smartphones, gaming consoles, computers, and tablets make our lives more convenient.
But, there are some drawbacks to increased screen time. It's almost impossible to get away from our devices and as a result, many Canadians suffer from discomfort related to digital eye strain.
Digital eye strain, also known as computer vision syndrome, refers to a group of ocular issues stemming from too much time spent using digital devices.
If you're experiencing eye discomfort after staring at your screen, we can help. We'll assess your screen habits and provide some strategies to mitigate your discomfort.
Book an appointment to find relief from digital eye strain today.
Book Appointment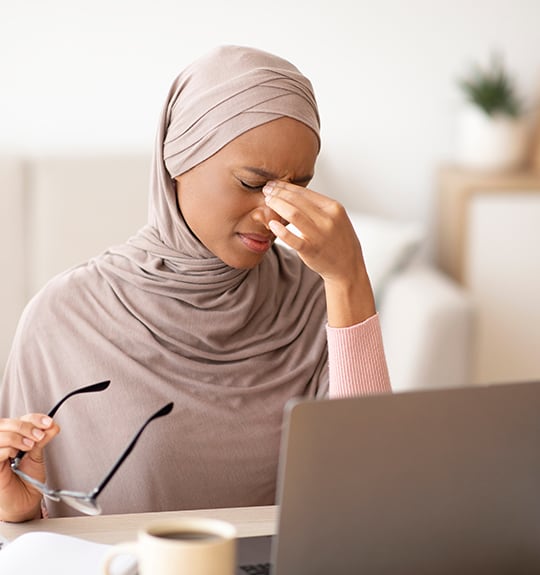 Symptoms of Digital Eye Strain
There are a few common symptoms associated with digital eye strain, including:
Dry eyes
Headaches
Eye strain
Blurry vision
Neck and shoulder pain
Often, symptoms will alleviate when you take a screen break. But, discomfort will return once you're in front of a digital device again. To find relief in the long-term, you'll need to implement some mitigation strategies.
It's also important to visit your optometrist to ensure there is not a more serious, underlying condition.
Book Appointment
Adjusting your work area, taking intentional screen breaks, and ensuring you have sufficient lighting while using your digital device are all strategies that help reduce digital eye strain.
Kids & Digital Eye Strain
Adults use screens frequently, but they're creeping into kids' lives too. Studies show that the risk of children developing visual issues increases after 2–4 hours of screen time.
The Canadian Association of Optometrists recommends that children avoid screen time 1 hour before bedtime and never bring a screen into their bedrooms. Breaks should be encouraged frequently when kids are using screens, particularly outdoor breaks for whole-body physical activity.
Children should have regular, comprehensive eye exams to ensure the health of their vision, regardless of their screen time.
Book their appointment today!
Book Appointment
Where to Find Us
Find us next to Shoppers Drug Mart on Appleby Line in north Burlington.
Our Address
2080 Appleby Line

Burlington

,

Ontario

L7L 6M6
Contact Information
*We are open Monday – Saturday for eye examination appointments.
Hours of Operation
Monday

:

9:00 AM

–

5:00 PM

Tuesday

:

10:00 AM

–

8:00 PM

Wednesday

:

10:00 AM

–

8:00 PM

Thursday

:

9:00 AM

–

5:00 PM

Friday

:

9:00 AM

–

5:00 PM

Saturday

:

9:00 AM

–

1:00 PM

Sunday

:

Closed
Book Appointment
Our Brands
Crisp, clear vision starts with a great pair of eyeglasses.
Browse our selection of handpicked brands ranging from the most popular in the world to the unique and independent. Our optical team will be happy to help pair you with glasses perfectly suited to your look thanks to our staggering selection of colours, materials, and styles.
Visit us today and see the world differently.